By Nagata Kazuaki, staff writer
Amid a global chip shortage and heightened geopolitical tensions, Prime Minister Fumio Kishida and U.S. President Joe Biden on Monday reaffirmed their intention to strengthen cooperation on the production and development of semiconductors.
In an apparent effort to head off risks stemming from dependency on China, the two leaders are stepping up efforts to reinforce economic security by enhancing the stability of chip supply chains and technological competitiveness.
With China projecting its military power and influence in Asia, concerns over Beijing possibly taking military action against Taiwan, a dominant semiconductor producer, have grown.
The document released by Japan and the U.S. states that the two nations will work together with like-minded allies "in areas such as semiconductor manufacturing capacity, diversification, next-generation semiconductor research and development and responding to supply chain shortages."
Earlier this month, economy minister Koichi Hagiuda visited the U.S. and agreed with his counterpart Gina Raimondo that the two countries would boost cooperation regarding semiconductors.
The global semiconductor shortage stems from the COVID-19 pandemic and trade war between the U.S. and China, which originally prompted Washington and Tokyo to ramp up measures to increase their domestic chip production capabilities. Taiwan Semiconductor Manufacturing, the world's top chip manufacturer, is building a new plant in Kumamoto Prefecture, which will start operations in 2024. The Japanese government is expected to shoulder about ¥400 billion ($3.1 billion) of the cost, about half of what is needed for the new facility.
In light of rapidly changing geopolitical and geoeconomic circumstances, Kishida has made improving economic security a key part of his policy agenda.
Earlier this month, parliament cleared a bill promoting economic security, with the legislation focusing on four areas: strengthening the security of key infrastructure, reinforcing supply chain stability, facilitating public-private cooperation on developing cutting-edge technology and keeping patents on sensitive technologies secret.
While Japan and the U.S. have vowed to buttress their semiconductor partnership, some experts say that a mere bilateral effort doesn't really make sense economically, pointing out that it is crucial to seek cooperation from a wider range of partners, especially India and members of the Association of Southeast Asian Nations (ASEAN).
Minoru Nogimori, senior economist at the Japan Research Institute, said the move by Tokyo and Washington seems to be mainly "supported by the political side of economic security, rather than the economic side."
Since major suppliers of semiconductors are currently based in Taiwan and South Korea, it is doubtful that bilateral cooperation between Japan and the U.S. can really be effective in terms of reinforcing the chip supply chain, he said.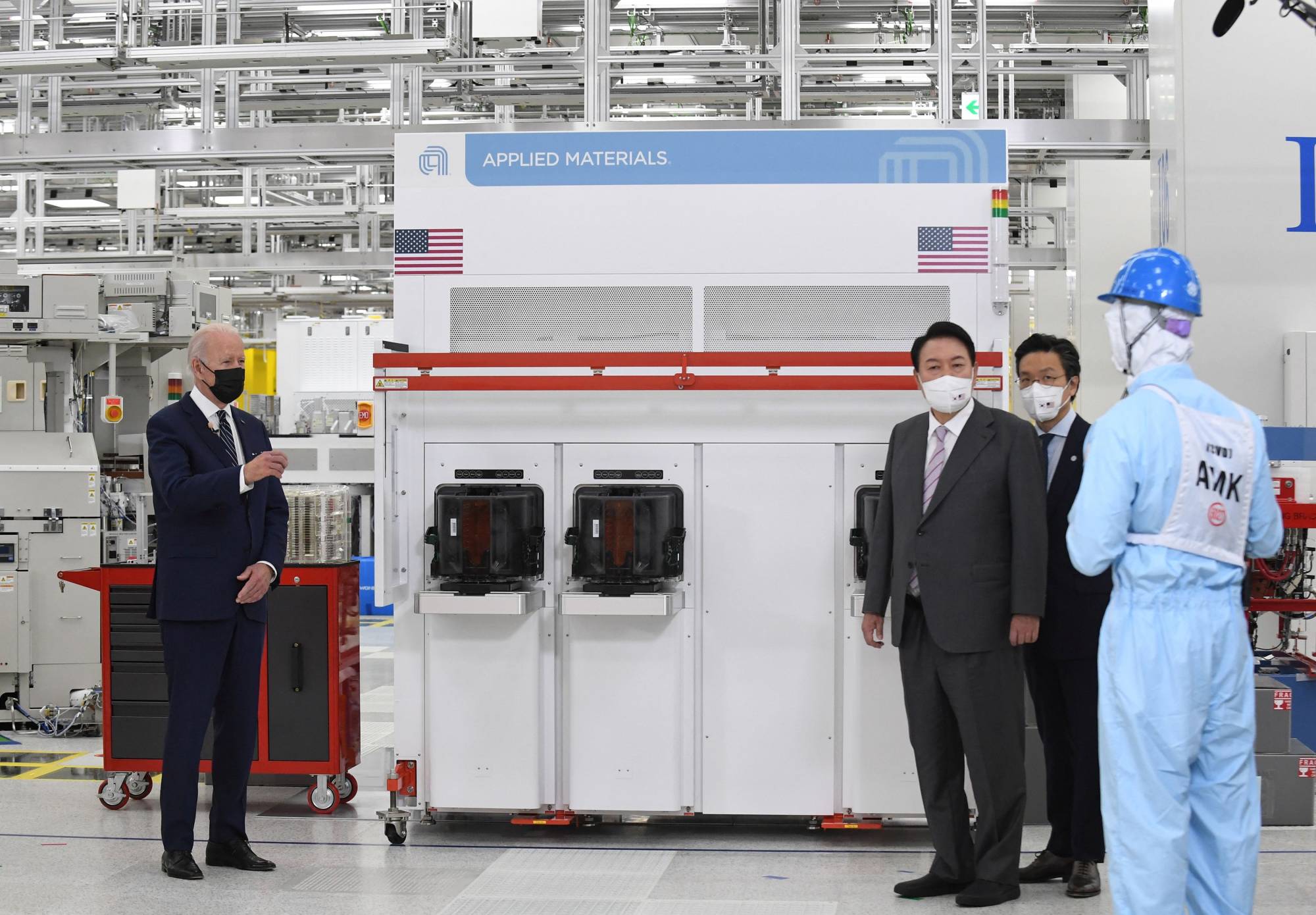 As for stepping up research and development collaboration on the latest chip technology, it is also unclear whether it will bring significant economic benefits to Japan.
"Japan doesn't really have the world's leading IT firms and is not really focused on growing such firms," said Nogimori.
Cutting-edge chips, such as those that are 5 nanometers or smaller, are used by top technology firms such as Apple and Google for their high-end products. Given that there is only weak demand among Japanese industries, there isn't a strong business case for making such chips domestically.
In Japan, demand for automotive chips is robust, but those are considered low tech.
Therefore, the partnership between the U.S. and Japan appears to be more of a political performance to pressure China rather than one focused on delivering economic benefits, Nogimori said.
When it comes to semiconductors, it's likely that the U.S. sees South Korea as a more critical partner.
Biden, currently in Tokyo as part of an Asia tour, actually chose South Korea as his first destination, where he toured a Samsung chip factory and called for more cooperation to improve supply chains. The company is planning to invest $17 billion to build a factory in Texas.
When it comes to diversifying and enhancing supply chain resilience, Japan should seek more cooperation with India and ASEAN countries, experts say.
Member nations such as Vietnam and Malaysia have been growing their presence as chip suppliers in recent years.
India, meanwhile, is ramping up investment in a bid to get chipmakers to build factories there. Last November, the country approved $10 billion in incentives for chip manufacturing.
While Nogimori said the level of chip manufacturing technology in those nations is still not very high, it is possible that they could become key players in the industry in the coming years.
But it seems Japan is not really approaching these countries for closer cooperation on chip supply chains, he said.